Nett Technologies Inc. Launches a Newly Redesigned Website
Nett Technologies Inc. — a leading manufacturer of innovative emission control solutions is proud to announce the launch of its newly redesigned website
MISSISSAUGA, ONTARIO, CANADA -

(
EINPresswire
via
NewMediaWire
) - October 31, 2016 - Nett Technologies Inc. of Mississauga, Ontario — a leading manufacturer of innovative emission control solutions is proud to announce the launch of its newly redesigned website. Whether experiencing
nettinc.com
from a desktop computer, tablet or smartphone, visitors will be welcomed by a website that is responsive, interactive and more user-friendly. Viewable from any browser and from any device or computer, the new website features many new additions, like its enhanced, centrally-positioned navigation bar. "A big addition to the website is our new interactive solutions guide. This guide is in direct response to our customers' needs to obtain clear product information as quickly as possible. Regardless of the emission control requirement, in three simple steps, visitors can quickly locate their emission control solution," says Alex Stojkovic, Communications Manager for Nett Technologies.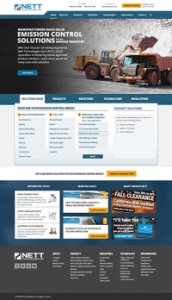 Continuing in the long-standing tradition of having the most advanced and informative website, Nett Technologies has ensured its new website also adheres to Web Content Accessibility Guidelines (WCAG). "When we initially began brainstorming the wants and needs for a new website, it became very apparent that, in addition to being the industry leader for emission control product and service solutions, we also needed a website which aligned with Nett's philosophy of providing a caring and nurturing environment for all. With that certainty in mind, it was vital to have a website that is fully accessible," continues Mr. Stojkovic. As a WCAG compliant website, Nett Technologies has taken the steps to ensure its website is accessible and usable by individuals who have visual, motor/mobility, auditory or cognitive differences.
Returning visitors to the new website will be pleased to know that Nett Technologies has retained their large and informative collection of downloadable brochures, presentations, operational and installation manuals, product training through e-learning and online tools/calculators. In addition, visitors can also sign up to receive exciting product information and announcements like their new line of catalytic mufflers for
Honda small engines
called the
BlueCAT™ SSI
.
Discover the many ways Nett Technologies can help you and your organization meet tough emission control regulatory requirements. Visit Nett Technologies' new website today at nettinc.com and discover their full line of emission control products and services.
About Nett Technologies Inc.
Located in the Greater Toronto Area, Nett Technologies Inc. is an innovative emissions control company that specializes in the design, development and manufacture of pollution control solutions for today's compression and spark-ignited engines for both the OEM and retrofit markets. Sold and supported globally, Nett Technologies Inc., develops and manufactures proprietary catalytic solutions that use the latest in diesel oxidation catalyst (DOC), diesel particulate filter (DPF), selective catalytic reduction (SCR), engine electronics, stationary engine silencer, exhaust system and exhaust gas dilution technologies. Our reliable and real-world emission solutions will extend the usable life of existing equipment while allowing you to avoid costly future replacements. During our manufacturing processes, we use the best of materials, innovative product design and workmanship. We manufacture emission control solutions that are California Air Resources Board (ARB) and the U.S. Environmental Protection Agency (EPA) verified. As the emission control authority, we are here to help you navigate through the hassles and complexities of emission control compliance. We are the industry leader and innovator of direct-fit emission control solutions to the construction, mining, material handling, power generation, utility, transit and trucking, marine and locomotive industries achieving new standards in emission control excellence.
For further information, please contact:
Alex Stojkovic - Communication Manager
Nett Technologies Inc.
astojkovic@nettinc.com
(905) 672-5453 x 105