New agenda released for Paediatric Clinical Trials event returning to London in 2017
After 10 successful years of running, SMi's 11th annual Paediatric Clinical Trials event will be heading back to London, UK in March 2017.
LONDON, UNITED KINGDOM -

(
EINPresswire
via
NewMediaWire
) - October 31, 2016 - Strengthening strategies in
paediatric
investigation plans remains paramount and with the EMA 10 year review of paediatric regulation a call has been made for greater guidance with the goal of increasing the number of safe paediatric therapeutics on the market.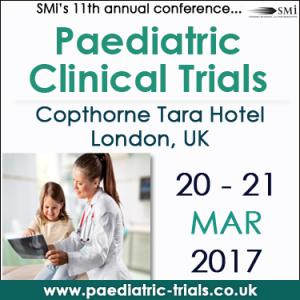 SMi's 11th annual Paediatric
Clinical Trials
conference will gather leading industry experts discussing current clinical trials, implementation, paediatric
drug development
and the complexities of paediatric drug formulation. This is your best opportunity to reach the largest assemblage of participants from the Paediatrics community!
The packed agenda will include hot topics on methods to improve clinical recruitment, ethical issues and regulations when planning and executing a paediatric clinical trial.
The 11th annual event highlights:
• Gain in in-depth update from the EMA on the PDCO's 10 year review into paediatric investigation plans
• Review and discuss paediatric clinical trial legislation in the EU and US
• Join GSK in reviewing the challenges in paediatric drug development for rare diseases
• Hear Roche discuss how clinical outcome assessments can lead to patient - centred paediatric clinical trials
For further information about the event please visit:
www.paediatric-trials.co.uk/ein
Expert speaker line-up in 2017:
• Robb Kahn, Former, Senior Safety Science Leader, Global Paediatric Oncology Drug Development, Genentech/Roche
• Philippe Auby, CEO & President, OEDC (Otsuka Europe Development & Commercialisation), Otsuka Europe
• Bianca McDade, Director Regulatory Affairs, GSK
• Tom Willgoss, Senior Outcomes Research Scientist, Patient-Centred Outcomes Research, Roche
• Karl- Heinz Huemer, Scientifi c Committee Member and Expert, EMA Austria
• Hernando Patino, Paediatric Drug Development Lead, Johnson & Johnson
• Deborah Lee, VP Clinical Development, Insys Therapeutics, and many more
The event will feature an interactive post-conference workshop: Paediatric drug development: Paediatric Investigation Plans (PIPs), challenges and strategies.
The workshop will discuss regulatory, scientific and history of drug development in adults and children, as well as current challenges by the European Union paediatric legislation, ways forward for individual project, companies, pharmaceutical industry and clinical paediatric.
11th annual Paediatric Clinical Trials
20 – 21 March 2017
Copthorne Tara Hotel, London, UK
www.paediatric-trials.co.uk/ein
For media enquiries please contact Zoe Gale on +44 20 7827 6132 or zgale@smi-online.co.uk
For delegate enquiries contact Ameenah Begum +44 (0) 20 7827 6166 or email mapps@smi-online.co.uk
For sponsorship opportunities contact Alia Malick on +44 (0) 20 7827 6168 or email: amalick@smi-online.co.uk
About SMi Group: Established since 1993, the SMi Group is a global event-production company that specializes in Business-to-Business Conferences, Workshops, Masterclasses and online Communities. We create and deliver events in the Defence, Security, Energy, Utilities, Finance and Pharmaceutical industries. We pride ourselves on having access to the world's most forward thinking opinion leaders and visionaries, allowing us to bring our communities together to Learn, Engage, Share and Network. More information can be found at
http://www.smi-online.co.uk
Anna Serazetdinova
SMi Group Ltd
+44702078276180